Portraits by Lois Woolley
---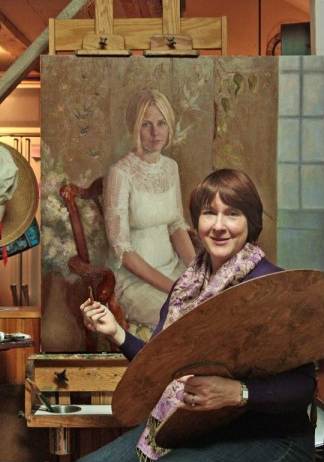 Lois Woolley is an oil and pastel painter whose specialty is traditional portraiture. Her portraits and figurative paintings are known for their classic style, rich color and expressive mood.
Woolley's public portrait commissions include a Harvard dean and a Hospital Workers Union 1199 executive. She has been featured in New Art International, Northlight's Pure Color: The Best of Pastel, The Pastel Journal, and Hudson Valley Magazine. Honors include being a Fellow of the American Artists Professional League, winning Best Portfolio 2004 at the Portrait Society of America, and being the 2005 recipient of the Woodstock Artist Museum's Yasuo Kuniyoshi award. In 2007, she won the prestigious Joseph Giffuni Memorial Award at the Pastel Society of America's annual exhibit.
A native of Washington, DC, Woolley has been drawn to portraiture since she was nine. Her desire to paint like her childhood heroes, Rembrandt and Renoir, brought her at age eighteen to New York's Art Students League, where she studied with Robert Brackman, Robert Beverly Hale, Daniel Greene and David Leffel. Sargent and Velasquez soon were added to her list of masters, and ultimately Ilya Repin became her favorite. Always searching to combine full color with strong form, her association with HongNian Zhang and his palette led to her current style. In 2000 she co-authored The Yin-Yang of Painting, which presents Zhang's color theory and method. She teaches portrait painting at the Woodstock School of Art. Represented by Portraits Inc., Portraits North and Portraits South.
Portraits by Lois Woolley from James Cox Gallery at Woodstock on Vimeo.
Copyright © Dandelion by Pexeto