Contact
---
Reach Us
Phone: 845-679-7608
Fax:  845-679-7627
email: info@jamescoxgallery.com
Gallery & Postal address:
4666 Route 212 
Willow, New York 12495
Hours
Our office is staffed Wednesday through Friday 10 AM – 5 PM and on Saturday and Sunday from 12 PM – 5 PM.
and by appointment.
Directions
The James Cox Gallery is located in the hamlet of Willow, Town of Woodstock, New York, two hours north of New York City on the west side of the Hudson River, one hour south of Albany. After arriving in the village of Woodstock, travel 7 more miles west on Route 212 (also Woodstock's main street) to Willow.  Note:  Route 212 makes a hard right one-mile west of the village.  Three or four miles further, look for the green and white highway sign (Willow) then pass a picturesque white church.  One-half mile further is our driveway on the right.  Proceed down the driveway 1/8 mile to the white barn. You can also get directions from the Google Map below.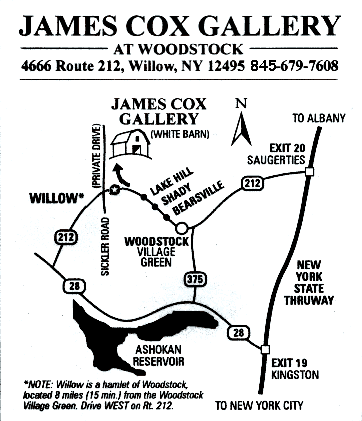 Send Us an Email