Celebrate the Narrative: Thursday Story Nights in November
---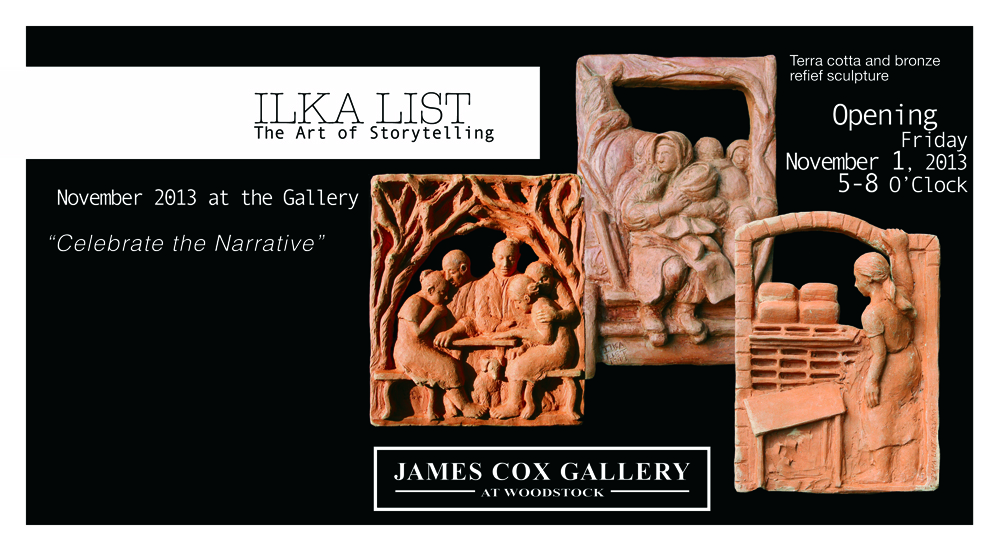 The James Cox Gallery at Woodstock announces a special new theme for its November events schedule. "Celebrate the Narrative" will unite the sculpture of Ilka  List, who's work depicts folk tales and personal stories of transformation, with four lively evenings of oral story telling.
The series will kick off on Sunday, November 3rd from 2:00 to 4:00 p.m., two days after the November 1st opening of List's exhibit of terra cotta and bronze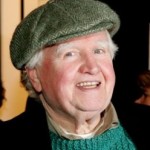 sculpture titled Ilka List: The Art of Storytelling. The featured story teller on Sunday will be Irish American writer and actor Malachy McCourt, author of two memoirs "A Monk Swimming" and "Singing My Him Song." McCourt's acting credits include performances  in "A Couple Of Blaguards" which he co-wrote with his brother Frank, author of "Angela's Ashes." He currently hosts a call in radio show on WBAI which airs every Sunday morning at 11 a.m.
James Cox explained that the Thursday storytelling evenings will be patterned after the highly acclaimed "Moth Radio Hour" on PBS.  Storytelling nights will take place at the gallery amongst List's exhibition every Thursday throughout November. "Ilka's depictions of dreams and personal experiences will provide visual resonance for these weekly gatherings," Cox explained.
To participate, "tellers" should sign up in advance by phone or email for these ticketed events. "Fairness dictates that all willing 'tellers' will submit their names to be drawn at random to determine order and limit the performers," according to Cox. He emphasized that stories must be true, story tellers must refrain from using notes and must limit their stories to six minutes.
"We plan to eventually develop evenings with themes like "Coming of Age," "Love Lost," "Animal Stories" or "Near Escapes," Cox said. But for the first month the stories will be a "free for all."
The gallery owner has been laying the groundwork for his premises to become a locus for the art of storytelling. He has attended organized conferences at ConnecticutCollege and live performances of "The Moth" in New York City. A year ago last summer, Cox invited the gospel choir from Kingston's Seventh Day Adventist Church to provide choral accompaniment for nationally renowned storyteller Keith Munslow, all to initiate the gallery's newly built outdoor stage, now dubbed "The Ellipse." In an effort to build on his deep interest in the oral narrative, Cox decided to continue the story telling events during the cooler months, using his indoor gallery space as "an ideal venue for intimate gatherings." Thus the Thursday  "Art of Storytelling" events were organized for November.
Gallery Manager Bryana Rosato observed that "Clearly there is a revival of interest in storytelling in this country, as evidenced by storytelling festivals and conferences held in every state and on many college campuses." She pointed out that the increased interest in the narrative tradition may be a reaction against the onslaught of digital media, movies, radio and "media on demand."
"I have long admired the skill and intimacy of a great story teller," Cox explained, adding that his father was one of the best. "He was capable of holding a room full of friends in rapt attention, waiting for twists and surprises he would spin."
The story telling events are open to the public. To reserve tickets or submit your name as a story teller contact the gallery at 845-679-7608 or by email at info@jamescoxgallery.com. The gallery is located at 4666 Route 212, Willow, NY. Gallery hours are Tuesday through Friday, 10 a.m. to 5 p.m., and Saturday and Sunday 12:00 to 5 p.m.
Copyright © Dandelion by Pexeto